It's easy to put sensors into the beehive. They are measuring the sound, temperature, humidity and weight. These informations are collected on our servers, analysed and sent to the web application.
It's accessible both from a computer and a smartphone. A beekeeper is able to see in the real time what is happening inside the beehive (weight changes of honey, supply loss, colony stress and others.). They are able to see the history as well.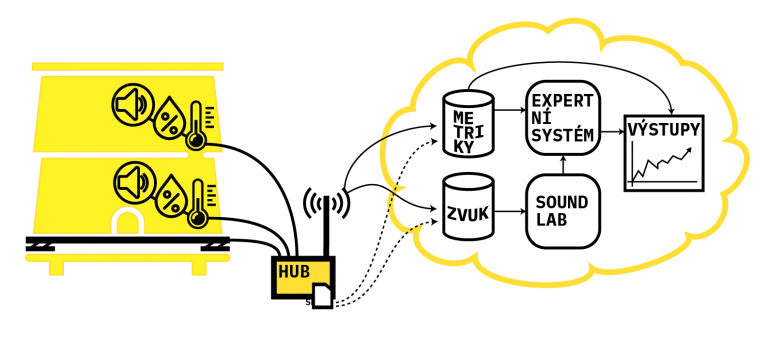 BOMBUS is the central unit of the monitoring device – it collects and processes data from sensors at regular intervals and uploads them via WiFi or GSM. The hub also takes care of powering the entire system from the battery, which can be charged from solar cells in the summer months.
It can serve 5 hive sensors (sound, temperature, humidity) and one hive weight.
A small sensor called Apicula is attached to the hive itself through the entrance on the bottom of the hive. The sensor is then instructed by the Hub to capture short sound recordings from inside the hive and changes in both temperature and humidity. 
The sensor remains in the hive throughout the year – except when the beekeeper needs to handle the whole hive. In such cases, the sensor can be removed from the hive within seconds
We designed Apicula upon the Ruuvi sensor, which is certified for the use in the whole world.
During the season, weight measurements display increases in honey and during the off-season supplies loss can be monitored. Throughout the year, it keeps track of the colony itself. It measures just a few centimeters over the base of the hive and is placed in between the bottom and the pedestal to measure the full weight of the hive, including the bottom, extensions, and frames.
The beekeeper can learn about his hive from two sources. He/she can either open the web application whenever needed, to see the current status and changes over time. The second source includes a weekly based evaluation over SMS or e-mail including a comment from our expert.
A group of programs runs in the background of the system to process incoming data, monitor spikes and look for patters that indicate changes in the hive. The more beehives the system can "hear", the better it can evaluate different situations and assist the beekeepers.